New take on LGBTIQ+ teacher training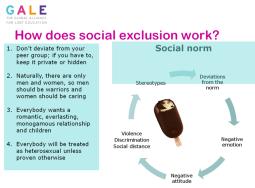 24 August 2023 - The My-ID project has published a new open-source user manual on how to develop an optimal teacher training on LGBTIQ+ issues. The manual gives a new take on LGBTIQ+ training. Rather than focusing on LGBTIQ+ "visibility" and giving teachers information on how to "correctly" approach LGBTIQ+ students, the manual and the accompanying background reader offer a view on how teacher can be approached on the emotional and attitudinal level.
Lack of available programs for teacher training
There are not that many manuals available on how to do a teacher training on LGBTIQ+ issues. Many trainers keep their programs to themselves, maybe because of capitalist reasons (they may not want to give their expertise away without being paid for it). This makes it difficult to compare programs and to assess which programs are best and which are not so good. In addition , the LGBTIQ+ movement tend to think of LGBTIQ+ teacher training as one thing. For example, in the monitoring system of IGLYO (the global association of LGBTIQ+ youth groups), "teacher training" is one "quality" checkpoint, without making a difference between a simple lecture read from slides, a commercial one-off open registration training, a model for an in-company school training or a national mandatory training in initial teacher training institutions, nor whether such training have an impact or not.
GALE has been working for years on trying to determine what constitutes an effective teacher training. This started in 2008 with an international expert meeting on teacher training in Europe, the USA and South America. It became clear trainers used a variety of models. Some of these models were very much based on the LGBT need to be visible and "confront" homophobia and heteronormativity, and others were more "professional" in first assessing the needs and fears of the trainee teachers. More of the programs were short kick-off awareness trainings, in which there was not time of context to work on real skills or on "transfer" of the learning yields to classroom practice. And there was certainly no focus on how to change heteronormative school culture.
The few studies done into LGBTIQ+ teacher training show that most teachers are not able to implement what they have learned because what they learned was not practical or feasible in the first place or because of (fear of) resistance from colleagues and parents. The trainings apparently did not equip teachers with tools to handle such threats.
The My-ID approach to teacher training
The My-ID approach was developed by GALE. It has been tried out dozens of times in a range of countries, and gradually developed further. Over time, GALE recognized that although teachers usually ask for lots of information, this is not what they really need. The request for information is often a cover for their insecurity to engage with sexual and gender diversity. This insecurity is based on their perceived fear of the responses by students, parents, colleagues and principals, but also on their own implicit bias. Teachers instinctively know that society dislikes sexual and gender diversity because such diversity shakes some of the most fundamental social expectations in society. And they know that to some extent they hold such expectations as well. They wonder how they can balance a reassuring message to students, while at the same time challenge them to get used to more tolerance of diversity. They hope to find this in an informational approach, because that is the only way they have been trained to teach: lecture, discuss, recap and test.
The My-ID approach is a choice to go beyond lecturing and beyond using classroom "discussion" only as a way to check if students have properly understood the information. Instead, the focus is on emotions and attitudes. The My-ID approach holds that heteronormative expectations lead to negative emotions about diversity beyond heteronormativity. It also predicts – based on scientific research – that negative emotions may lead to negative attitudes, which in turn often lead to negative behavior and social distance. Social distance in turn leads to stereotyping, which in turn leads to negative emotions. In the My-ID training theory, this vicious spiral of social exclusion is explained. The training goes into detail how teachers can see how this cycle can be seen in their class and school and how they can intervene on each level of the cycle.
The key to stop or slow down the heteronormative spiral of exclusion is to deal with all aspects of the cycle in a coherent way. However, dealing with the emotional access point is most essential, because this will form the bottom line in any anti-heteronormative intervention.
The training manual
The now published manual is a fourth generation publication. Previous publications simple gave a model for a kick-off teacher training lasting one day. The new manual recognizes that teacher training on LGBTIQ+ issues can be focused on beginners who are willing or who are resistant, and also could be focused on somewhat more advanced teachers. It also recognizes that open registration trainings will have a very different audience than in-company trainings or mandatory trainings. Therefore it is impossible to offer a single training program. Each program needs to be tailored to their specific context and group.
The manual therefore offers suggestions on how to prepare the program and adapt it to the given and deeper needs. Most trainings may have similar contents, but the order of different program parts or modules depends on the context. The manual therefore offers suggestions for how to develop 6 different types of modules:
starting the training
changing attitudes
answering students questions
developing a spiral curriculum with colleagues
choosing and developing classroom activities
making sure that trained skills are transferred to school practice
The background reader
The background reader is study material which repeats the theory given in the training and which goes deeper into some information that could not be fit into the training. Since the training itself is a pedagogic model on working with emotions rather than transferring information, the training itself attempts to give as little information as possible, and use the precious contact time with teachers to really focus on skills you cannot learn by reading only. The reader fills the informational gap which teachers often feel.
The original reader GALE develop had hundreds of pages, but project (and translation) limitations made in necessary to limit the number of pages. After a project discussion, it was decided to offer teachers 4 key articles:
How discrimination works in schools (about the exclusion spiral)
Questions students may ask (and non-useful factual answers and possible strategic teacher responses)
Criteria for a safe and welcoming school (a tool to monitor and check policy content)
A school consultancy model (a perspective and planning of improving a school over time)
Sources: The My-ID manual to develop teacher training, The My-ID teacher Training Background Reader
The resources are downloadable in MS Word format so users can edit the resources to their own needs. The resources are open source and can be used for free if acknowledging the source.
The resources are currently being translated in Dutch, Spanish, Italian and Greek and should all be ultimately available in November 2023 (see https://www.gale.info/en/projects/myid-project).