Greek conference on homophobic bullying great success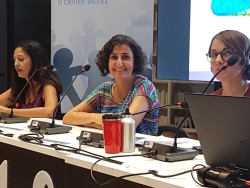 27 September 2019 - With over 100 participants and an equal number of people following the HOMBAT conference on homophobic and transphobic bullying online, the event was a great success. The conference "Combatting HT bullying is schools" was the final event of the HOMBAT project, which trained over 600 teachers and school counselors in Greece, Cyprus and Lithuania. The trainers were trained and coached by GALE.
Innovative approach to training
The HOMBAT project took an innovative approach to training about LGBTI issues in schools. The basis of the change perspective was that heteronormativity is not primarily caused by a lack of information and that giving information in a training is largely useless. Heteronormativity is caused by negative attitudes, which in turn are based on instinctive emotions of fear and anger. The trainings were focused on teaching teacher how to deal with these emotions and to start a personal development process in which they can adapt their own attitudes and create more space for diversity. Because the participants were teachers and school counselors, they also learned how to teach young people how to deal with their prejudiced attitudes and negative emotions.
Transformative experiences
This approach made the trainings different from other trainings that focus on the intellectual aspect of discrimination by explaining it. It also went beyond basic awareness by using triggers that create feelings of empathy. Many participants experienced the trainings as transformative and live-changing experiences. The HOMBAT conference presented several testimonials of teachers who tried to explain the experience.
One of the trained teachers told the audience that she took part in the "corridor of shame" exercise. The participants stand in two lines and are asked to say homophobic and transphobic words that are commonly used in schools to others participant while they walk through the corridor. The participants discuss what emotions this evokes, and which participants could perceive the words as "jokes" or "not meant as discriminatory". The teacher who recounted this experience was profoundly shocked by it. During a panel she said: "I was so angry, I have never been so angry in my life". Even in the panel situation she got flushed and broke almost into tears while recollecting the experience. She said: "I am cisgender, but now I have to learn to deal with this anger in a quiet way and to channel my emotions in an effective teaching strategy. Because of this and other experiences in this training, I became much more capable as a teacher. Not only to combat homophobic and transphobic bullying, but also to feel more secure and empowered in general as a teacher".
Sources: HOMBAT website, HOMBAT on Facebook