Polish court stops distribution LGBT-free stickers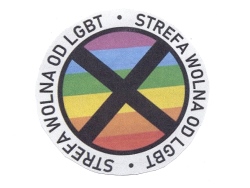 1 August 2019 - The Warsaw District Court ordered the newspaper Gazeta Polska to stop including LGBT-Free Zone stickers in its publications pending the outcome of a rights activist's case. The newspaper now avoids the ban by distributing a revised version LGBT Ideology-Free Zone.
Hate stickers
The Gazeta Polska is a government-aligned newspaper, which assist the government is spreading anti-LGBT hate. One of their campaigns is to distribute // LGBT Free Zone" stickers which homophobic towns can use to support the hate campaign. The stickers remind us of WWII when shops posted sign "Jews not wanted".
Much of the recent hate speech has been driven by Poland's ruling Law and Justice Party. Rather than defending equality for everyone in the country, the government has used state resources to promote an agenda that undermines it. For example, to advise it on recent sex education curriculum changes, the government appointed a Catholic theology professor who has claimed that contraception can cause "hedonism, sex addiction and a tendency to be unfaithful." New curriculum guidelines reinforce discriminatory attitudes against LGBT people and gender stereotypes.
Activist responses
Activists have taken to Twitter with the trending hashtag #jestemLGBT (#IamLGBT). This Twitter campaign works well to mobilize broad opposition against the government turn to open discrimination.
They also went to court. Despite the government appointing conservative judges, courts have been supportive toward equality in recent years. And the European Union has made critical comments about the developments in Poland. However, the current measures do not seem to be sufficient to stop the sliding back of Poland to a situation of pseudo-fascism.
Source: Human Rights Watch