Hungarian volunteer education group raises funds with Lego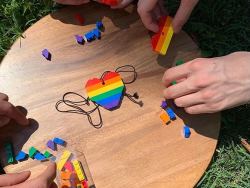 28 July 2019 - The Hungarian volunteer education group "Getting to know LGBT people" has initiated a fundraising program by selling self-made Pride Hearts of Lego. They ask supporters to help spread the word and share pics with the heart using the #myprideheart hashtag.
Get to know LGBT people
The volunteer group Melegség és Megismerés ("Getting to know LGBT people") is one of the many volunteer groups across Europe and Canada that offer panel sessions of LGBT peer educators for high schools. Commonly, the peer educators introduce themselves with a testimonial, and then answers questions. This method is based on research on intergroup contact, which show that people become more tolerant when they know people from minorities, even when they are not becoming friends.
In some countries, the testimonials and questions activities are followed up by a critical dialogue on heteronormativity. The idea of such discussions is to deconstruct rigid norms about sexuality and conformity. This could give young people more insight in how society tends to systematically exclude some groups, like women and LGBTIQ people. It is also hoped that young people can then feel supported in making non-normative lifestyle choices and to actively resist discrimination.
Pride Heart
Doing such peer education sessions in Hungary is quite a challenge. The government is actively promoting homophobia and abolishing gender studies. Promotors of equality are called foreign agents of non-Hungarian values and therefore enemies of the State. The peer educators of Melegség és Megismerés are brave people facing difficult discussions. Moreover, their group cannot count on subsidies and asking schools for a contribution is also difficult. The Pride Heart fundraising campaign is a hard-needed tool for their survival.
With one Pride heart (19,95 USD), they cover the travel cost of one volunteer to Hungary's capital, Budapest. Selling 3 hearts funds a volunteer's trip to a countryside training. Ten hearts sold will train 30 people in a company to know more about LGBTQ society. And 200 hearts would cover more than 60 countryside trainings reaching more than 600 people.
Source: The Pride Heart campaign