Fill in the EU LGBTI Survey before 20 July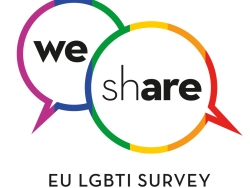 29 June 2019 - The EU LGBTI Survey was launched on Tuesday 28 May and it will close (extendend deadline) on July 20. The survey will collect the experiences of discrimination and hate crime as well as the views and challenges faced by lesbian, gay, bisexual, trans and intersex people across the EU. GALE encourages her European members and others to fill in the survey before July 20.
Second wave
This research is the second wave of a research that started 7 years ago. It is open to anyone who self-identifies as LGBTQI+, is aged 15 years and above, and lives in an EU Member State, in Serbia, or inn North Macedonia. It is open until 20 July 2019 in all EU languages as well as Serbian and Macedonian. The survey is delivered by the FRA (European Fundamental Rights Agency, bases in Vienna) in cooperation with LGBTI+ organizations and the European Commission.
Importance to fill in the survey before 20 July
The first wave was filled in by over 93.000 respondents and the results had a huge impact on policy. In many countries, governments do not collect data on LGBTI+ discrimination and then proclaim there is no issue in their country. The EU LGBTI Survey corrects this partially.
The GALE European Report on the Right to Education for LGBTI made use of data from the first wave. For some countries it was the only data available, or the only large-scale data.
Promote attention to the survey by using the official hashtags: #yourstorymatters , #lgbtisurvey , #weshare