Call to participate in LGBT tourism research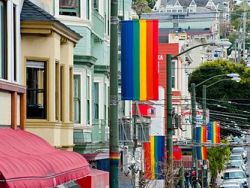 5 April 2019 - GALE notes a renewed interest in researching LGBT tourism. A new handbook was published and young researchers are trying to collect information and develop training for hospitality staff. GALE calls upon its members to help by filling in the surveys of two researchers.
Training hotel staff
Julia Sarro from Switzerland wants to create a training on the LGBTQ subject for hotels' employees so that they can be informed on it and consequently receive a gay-friendly certificate. She developed a survey to prepare the training. She needs the information before the 3rd of May to include it in her thesis.
LGBT tourism in Alicante
Raul Salort is studying LGBT tourism in Marina Alta, Spain (Alicante). He also developed a survey in Spanish on this. Marina Alta is a not yet well known area south of Valencia ands just north of the well known gay resort of Benidorm. It is interesting to see what can be done to develop such an area into a more interesting area for gay, or LGBT people.
English: https://www.onlineencuesta.com/s/637b9a2
Français: https://www.onlineencuesta.com/s/9ec6165
Handbook of LGBT Tourism
In 2017, the Harrington Press published the "Handbook of LGBT Tourism and Hospitality: A Guide for Business Practice" by Jeff Guarancino and Ed Salvato. This book is a worthy attempt to write a handbook for global LGBT tourism. However, this version is still quite US-centric and "gay" centric. This may be good for North American gay tourists and hospitality services focusing on that target group, but the analysis and information on other groups – like lesbians traveling with of without children, and for transgenders who may have other traveling goals than being a tourist themselves – is still limited.