Government and civil society partnerships needed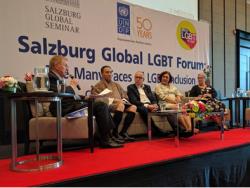 16 October 2016 - Government and civil society from across the globe must work together to identity strategic opportunities and leverage each other's strengths to further advance the human rights and inclusion of lesbian, gay, bisexual, transgender and intersex (LGBTI) people, said a panel of ambassadors and lawmakers at the Salzburg Global LGBT Forum this week in Chiang Rai, Thailand.
Salzburg Global Seminar and UNDP
In October, the Ambassadors to Thailand from Canada, Sweden and the United Kingdom, as well as lawmakers from Bhutan and Venezuela participated on a panel, titled "Strengthening International Connections" The panel was part of the global forum on LGBTI inclusion. The forum was attended by more than 50 advocates, artists, government representatives and human rights experts from Asia-Pacific and beyond. It was organized by Salzburg Global Seminar and the United Nations Development Program (UNDP).
Sustainable development
"In Bhutan, we are currently reviewing the legal provisions in Bhutanese law which discriminate and criminalize LGBTI people, and will be making the necessary recommendations for amendments". This was said by Ugyen Wangdi, Member of Parliament from Bhutan.
In the Asia-Pacific region, stigma and discrimination are widespread in key aspects of LGBTI lives including employment, education, housing, and health care. There has been significant progress but LGBTI people continue to face both legal and social barriers to equality and inclusion. This must be dismantled for these marginalized populations to fully enjoy their deserved individual rights to development and quality of life. Attention to these needs are essential if countries are to achieve the Sustainable Development Goals.
LGBTI challenges also global
The challenges confronting LGBTI persons are not only national or regional, but also global. We need to develop an understanding of how each region's successes and challenges are relevant to a global level. The lessons from different cultures and experiences should be better described and disseminated to advance LGBTI inclusion on the global stage.