gale presents e-course for high school teachers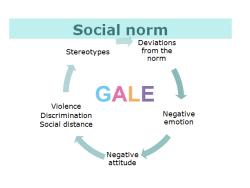 August 28, 2016 - Today GALE presents a novelty: the first e-course on sexual diversity for teachers in secondary education. The course is free until the end of this year. Then schools must pay a fee for maintenance of the course. The course is available in English, but also in Spanish, Italian, Dutch and Basque. One can register here.
Explanation of how fear leads to discrimination
The course focuses on how teachers can deal with negative and biased responses by students. The course provides a lot of information about sexual diversity and how you can answer specific questions. But the course also emphasizes how even good information is not effective enough in education. Combating homophobia and transphobia should be more about changing attitudes to be effective. Information is not enough to change attitudes. The course explains what teachers should do to change attitudes and negative behavior.
According to GALE, negative attitude are always rooted in fear. To illustrate how this works, GALE developed a model: the discrimination spiral . To break this vicious circle, teachers have to teach their students how to deal with the fear of losing their false sense of security that is based on the norm of heterosexuality. The discrimination spiral also provides clues on how a school can counter discrimination as an organization.
Five modules
The course consists of five modules, each of which consist of various topics. Each topic consists of a text followed by a quiz.
The first module provides basic knowledge about sexual diversity. This modules gives scientific facts about sexual diversity. But this module also makes clear that many facts are often not essential in education. Telling some facts can be even counterproductive.
The second module is about how to make the school more welcoming for LGBTI. This is mainly about how to improve attitudes. There is also attention on how the school can address this in a more structural way than just by teaching.
The third module is about teaching. There is a lot of attention to how teachers can respond to questions and comments. It also gives examples of interactive exercises which help to change attitudes.
The fourth module is about how to transfer the expertise of the course into personal practice. The final module is an evaluation survey which helps GALE to improve this course.
Availability of the course for local organizations
After 2017 the course participants will have to pay a fee. Local organizations are not allowed to copy the course or use the content without GALE permission. However, LGBTI organizations can get a discount for volunteer participants. In addition, local organizations can make a deal with GALE about the use of the course. If they advertise the course to teachers and this results in paying participants, the referring organizations can earn part of the participant fees.
The e-course was developed within the framework of a European project "LeGoP" (legop.tk). It was a collaboration of GALE with schools and diversity organizations in the Netherlands, Italy and Spain (Basque Country). However, the technical and substantive preparation of the courses was also in part prepared with a previous grant from the Dutch Ministry of Education.