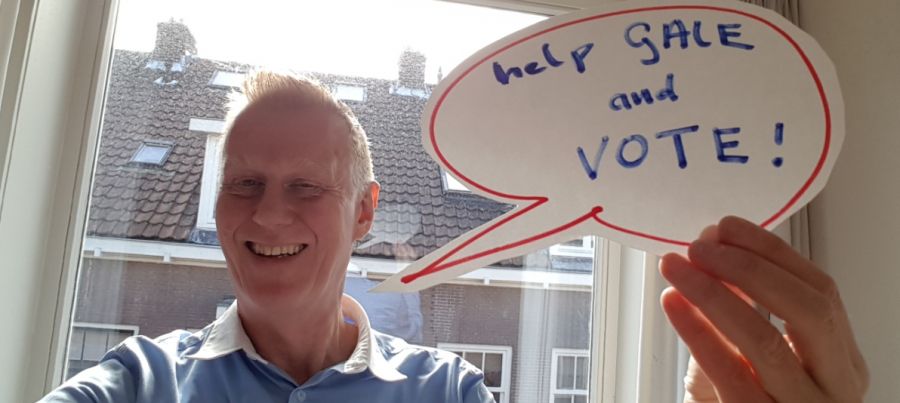 Español a continuación
Français ci-dessous
Renewed Call for Elections GALE Association Committee
10 March 2017
Vote between now and April 1
The election period for the GALE Association Committee has been extended until April 1.
The elections for the Committee officially closed on March 1. About 10% of the GALE members voted. To give members another opportunity, we decided to extend the deadline until April 1. Please help strengthen the democratic process of GALE by casting a vote! It costs only a moment.
You can cast your vote here for one of the nine candidates.
You have received a list of the candidates and their profiles in the recent GALE Update. The profiles can also be found on www.gale.info/en/vote.
Convocatoria renovada para elecciones Comité de la Asociación GALE
10 de marzo de 2017
Votar entre ahora y el 1 de abril
El período de elección para el Comité de Asociación de GALE estará abierto hasta el 1 de abril.
Las elecciones para el Comité se cerraron oficialmente el 1 de marzo. Aproximadamente el 10% de los miembros de GALE votaron. Para darle a los miembros otra oportunidad, decidimos extender el plazo hasta el 1 de abril. Por favor, ayude a fortalecer el proceso democrático de GALE mediante un voto! Sólo cuesta un momento.
Usted puede emitir su voto aquí para uno de los nueve candidatos.
Usted ha recibido una lista de los candidatos y sus perfiles en el GALE Update reciente. Los perfiles también se pueden encontrar en www.gale.info/es/vote
Appel renouvelé pour les élections Comité de l'Association GALE
10 mars 2017
Votez entre maintenant et le 1 avril
La période électorale pour le comité d'association du GALE sera ouverte jusqu'au 1er avril.
Les élections du Comité sont officiellement closes le 1er mars. Environ 10% des membres du GALE ont voté. Pour donner aux membres une autre occasion, nous avons décidé de prolonger la date limite jusqu'au 1er avril. Veuillez aider à renforcer le processus démocratique de GALE en votant! Cela ne coûte que quelques instants.
Vous pouvez voter ici pour un des neuf candidats. Vous avez reçu une liste des candidats et de leurs profils dans le GALE Update récente. Les profils peuvent également être trouvés sur www.gale.info/fr/vote