GALE presents school selection tool for LGBT parents
May 06, 2014 - Today, at the NELFA conference for "rainbow" families, GALE presented two tools LGBT parents can use to better select an LGBT welcoming primary school for their children. The tools can also be use to advocate for more inclusive policies in the school they already selected.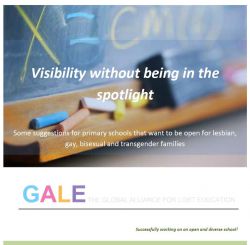 Brochures for parents and for schools
The tools are two short brochures. One is meant for LGBT parents, the other for primary school principals and teachers. The LGBT parents brochure offers four key questions parents can ask their future or current school. These questions represent the four key domains of school policy and inquire about the quality of inclusiveness of school policy.
Help schools to start thinking
In practice, LGBT parents will be confronted with a majority of schools who never considered the idea that there are rainbow families. They will have no idea what their needs are and may suppose that attention for sexual diversity is irrelevant or even inappropriate for a primary school. So it may be rare to encounter a school that actually implements full inclusion of rainbow families.
However, GALE expects that when LGBT parents start asking questions, well willing schools may start to think on how to deal with potential challenges. To help schools deal with this, the second brochure is for primary school principals and teachers themselves. It is structured around the same four questions, but gives the answers school could give to parents.
For a good school policy, the "right" answers should not be private opinions of the principal but carried by the whole school staff. The brochure therefore gives suggestions on how to discuss the questions with the staff team. This way the team can build a consensus on the way the school wants to operate.
Edit tools to own needs
Peter Dankmeijer, director of the GALE Foundation, remembers: "The drafts of these brochures were developed by four University students in the Netherlands on behalf of the Dutch National School Alliance for Sexual Diversity. GALE has translated and published it as part of her policy to identify and share best practices. The students were extremely conscientious in developing this leaflet. They explored all the research on rainbow families, their children and on how to create safer schools. They interviewed rainbow families and school principals and teachers both before the leaflet was written and after a first draft had been developed. This final version has also been reviewed by experts of the Dutch Rainbow Family Association and by GALE staff. Of course, these brochures are just two of the tools that can be used to guide primary schools in the right direction. We offer LGBT parents organizations the Word version of the brochures, so they can edit and translate them for their own needs and context. We only ask in return that GALE gets a digital copy of the edited products, so we can learn from these and keep sharing learning experiences and good practices."
Links and contact
Contact GALE for Word versions: info@lgbt-education.info