Inauguration of "EL CENTRO SOMOSGAY", the first LGBT community center in Paraguay
November 09, 2009 - SOMOSGAY begins enabling tasks "EL CENTRO SOMOSGAY" (The Centre of SOMOSGAY), the first LGBT community center in Paraguay.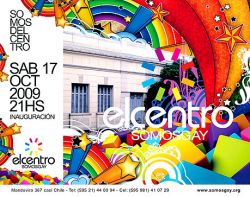 The Centre is located in an area considered key to the LGBT community of Asuncion, since it is a few meters from a popular meeting place, and two blocks away from "Hollywood", a leading LGBT nightclub. The particular interest in locating SOMOSGAY's Community Center in that area is primarily due to its mission to remain close to the needs of LGBT people in its city. THE CENTRE will house the office SOMOSGAY, but its main focus will be to provide a safe space for meetings, artistic, cultural and leisure activities; of individuals and groups who have no other space for it.
This new space, with its prime location, will also offer a range of services to be expanded gradually by SOMOSGAY. The first is the provision of free male condoms and free counseling & testing services weekly. THE CENTRE will host the cyber café named "CondomBar", a venture designed by SOMOSGAY to promote very creatively the use of condoms, self-care and self-esteem through interactive media.
Another section of THE CENTRE will be equipped to accommodate a center of reference and documentation on human rights and issues related to sexuality and sexual diversity. The documentation center will host Homonoi, the specialist publisher of SOMOSGAY, and will aim to facilitate access to scientific information for teachers, students and citizens in general, establishing the necessary links with local and international academics.
THE CENTRE of SOMOSGAY gradually become the physical manifestation of the SOMOSGAY mission: to involve as many people interested in full equality, as a tool for effective mobilization of our communities and as a vindication of a Paraguayan society free from homophobia, sexism and discrimination.
www.somosgay.org